Didgeridoo Video Gallery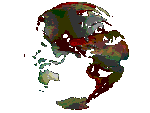 It's commonly said that a picture is worth a thousand words. Since a video contains essentially thousands of pictures, these must be of great value, right? Anyways, here I hope to present you with a treasure-trove of didgeridoo videos, all free downloads. If you have any didg videos that you'd like to contribute, please contact me via email.
Have fun!
All videos are QuickTime movies. Click here to get free QuickTime (available for Mac and PC). (Please note: if you produce any amateur or pro video, QT Pro is well worth the price!)
All movies are ©Steve Sklar/Skysong Productions, Inc. All Rights Reserved.
Please Note: If you don't have QT Pro and want to save the videos, then either R click (PCs) or Option Click (Mac) and do a Save to Disk, then view the .mov file from your hard drive. If you have QT Pro, then you can view the videos from within your browser, and save them from there. If you view them from within your web browser, I recommend configuring the browser to view them using the QT plugin, as this lets you begin viewing as the files download.
---
Randy Graves An unique and technically eclectic improvisation performed at the 2003 Joshua Tree Didgeridoo Festival. I believe that this excerpt contains all but the first few seconds of his performance. Visit Randy at http://www.gingerroot.com
Steve Sklar/Overtone Orchestra An excerpt from World Artists for Tibet concert, Minneapolis MN, 1998. I'm singing khoomei and sygyt styles (also birdcalls), accompanied by Johnna Morrow, flute, percussion; Steve Lazer Lazarski, G didgeridoo; and Lee O'Daniel, swarpeti (E. Indian sruti drone box).
Overtone Duet Bernard Dubreuil, didgeridoo; Steve Sklar, khoomei (kargyraa and sygyt), 1997
Last Updated 11-5-03